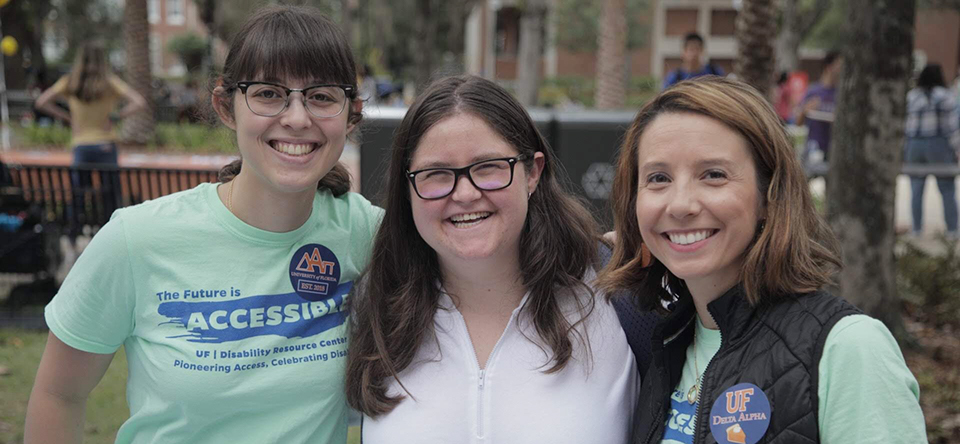 Learn about our outstanding student groups:
Delta Alpha Pi Honor Society is an honor society founded to recognize high-achieving college students with disabilities.
Disability Ambassadors promote accessibility, inclusivity, and empowerment of disability identity through student-led education and outreach efforts.
Pioneering Access Ceremony During the Pioneering Access Ceremony the DRC celebrates graduating DRC students and Pioneering Access Award recipients.
Rising Scholars Rising Scholars is a nine week transition program for students new to UF or the DRC, and/or new to their disability. Students will learn about success strategies, career readiness, disability identity, wellness, and more.
Employment Opportunities The DRC hires student assistants for roles as an Educational Assistant, Testing Proctors, Front Desk, Assistive Technology, and Note Services. Additionally, the DRC has a graduate assistant and practicum students opportunities.
SOCIAL Gators (Student Opportunities for Career, Independent, and Academic Life) is a program for UF degree-seeking students who identify as having autism spectrum disorder and want to enhance this skills for a more enriching college experience. The group is also open to other students with disabilities who may experience difficulty connecting with others and struggle establishing interpersonal relationships.
Study Abroad Students with disabilities who wish to study abroad can work with our office to help discuss accommodations internationally.