It is the goal of the Disability Resource Center to foster a sense of empowerment in students with disabilities by educating them about their legal rights and responsibilities so that they can make informed choices, by encouraging them to engage in critical thinking and self-advocacy and by supporting them in being successful students, campus leaders and positive contributors to the campus community. The Disability Resource Center, in conjunction with the Division of Student Affairs, is helping students to create an unparalleled experience where students embrace learning and diversity to become leaders in the service of the global community.
Contact the DRC
Phone
Voice: ( 352 ) 392-8565
Fax: ( 352 ) 392-8570
Toll Free: ( 877 ) 983-3326
FL Relay Service: ( 800 ) 955-8770
Email
Mailing Address
Disability Resource Center
University of Florida
PO Box 114085
1316 Museum Rd
Gainesville, FL 32611
Office Location
Disability Resource Center
001 Reid Hall
(Located 1/8 mi. north of the intersection of SW 13th Street & Museum Road)
DRC Campus Map
DRC Google Map
DRC Directional Video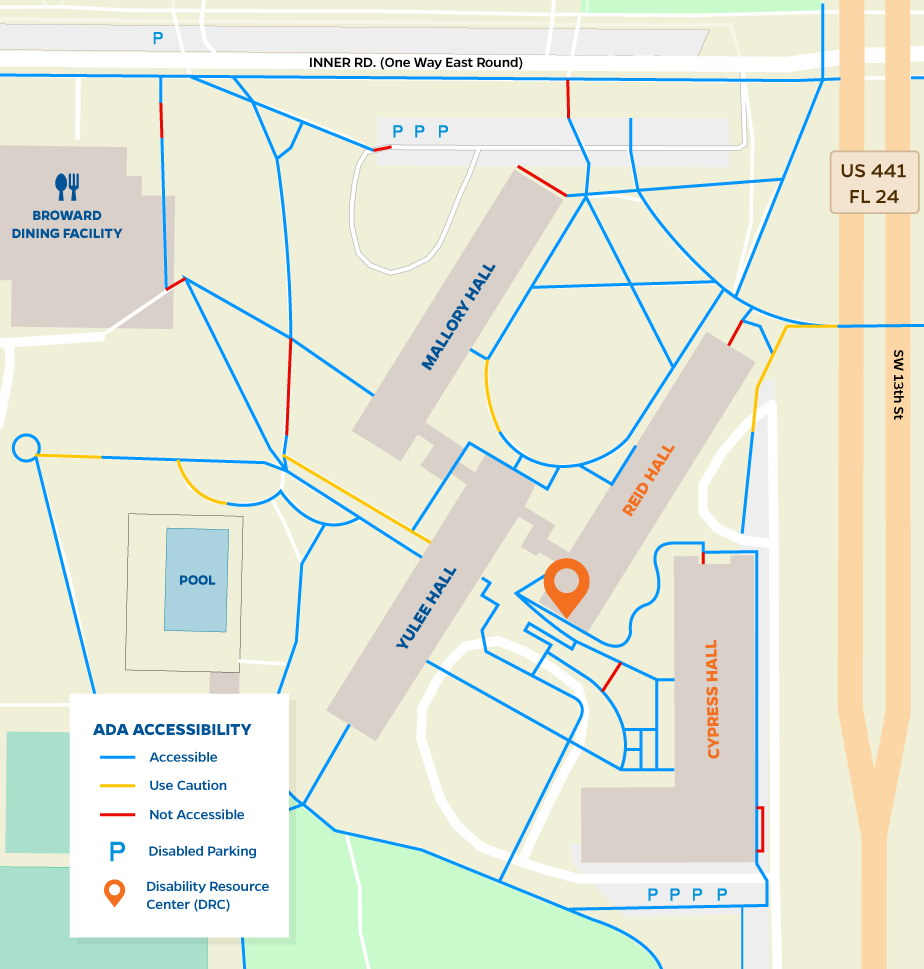 Hours of Operation
Main Office - Reid Hall
The DRC Main Office is open Monday through Friday from 8am to 5pm. Please note that all DRC offices will be closed during University Holidays.
DRC Appointments are located in both Reid and Cypress Halls. Please check in at Reid Hall and you will be directed to your appointment location. Appointments are available Monday – Friday 8:30 am – 12 pm and 1 pm – 5 pm. Extended appointment hours offered until 7 pm as needed.
DRC Testing Office
Monday through Friday, 7:30am – 5pm. As needed for evening exams: 5pm – 10:30pm
Assistive Technology Lab & Study Room
Monday through Friday, 8am – 5pm